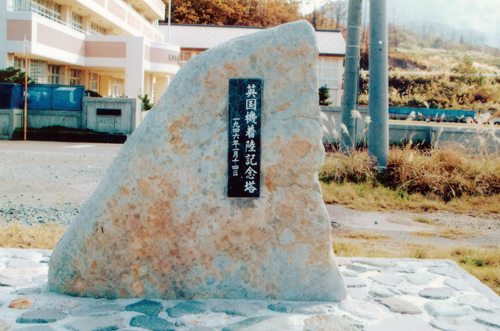 This is the place where RAF (Royal Air Force) aircraft FL510, as a Dakota III or Sister Ann, crash-landed in January 1946, just 5 months after the end of WWII. All aboard the aircraft were safe. With warm hospitality for its crew members provided by local people the plane was successfully repaired and flown back into the skies. Based on this story, a Japanese film was produced in 2013. The title is gTobe! Dakotah (English title: FLY, DAKOTA, FLY!)
Theme Tune Tobe Dakota Official site (Japanese)
In the past, the 1955 movie, The Night My Number Came Up, was created on the true story of Air Marshal Victor Goddard, one of the Dakotafs passengers. It tells the story of why the artifact came to Sado. However, the rest of the story, what happened after the crash-landing, was virtually unknown until recently. The new movie revealed it to all viewers for the first time.